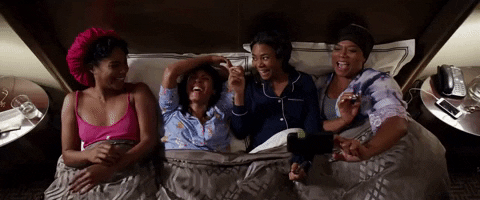 Girls Trip premiered this weekend and I am here to say, in today's society, we need this movie. It feels like we have been deprived of a real 'black girl power' movie since the 90's. With it racking in $30 million at the box office over the weekend, it is safe to say the public felt the same way.
The movie stars strong queens: Queen Latifah, Regina King, Jada Pinkett-Smith, and Tiffany Haddish. The movie starts off introducing our stars, Ryan (an established author), Sasha (a gossip blogger), Dina (the wild card), and Lisa (conservative mother). Each character has their own role which plays a role into their friendship dynamic.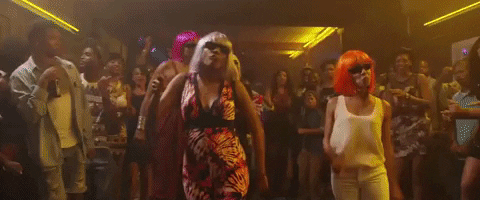 The female group refers to themselves as "The Flossy Posse" and the movie takes place at the Essence Festival. The film brings guest appearances as they film during the actual Essence Festival, making it a live action comedy.
Even one of Ryan's old flames (Larenz Tate) makes an appearance, as well, to bring some fire, with good laughs, some eye candy, and confronting life's issues, all in one. There are a number of comedic scenes and some heart breaking ones too. The main comedic focus is on the break out star Tiffany Haddish, who plays Dina. You can expect Dina to be your ride and die, during life's bumps amidst teaching you sexual tricks like "grapefruting". If you don't know what "grapefruting" means, you will after this movie. Honestly, we all need a Dina in our lives. She was the only character that brought the party to the group!
All of the ladies had moments that made you laugh and relate hard to the character, but what really hit hard for the squad was seeing how their friend and celebrity author, Ryan,  was dealing with her troubling marriage. We all know the best way to deal with a heartache is with your girls. What truly made me happy about this movie is seeing how they still manage to be there for each other, even with their different career fields. Each character is powerful in her own right and we all seemed to find one we could relate to.
Now, this movie is a little raunchy, but with a whole lot of OMG moments. You will instantly feel every emotion in the theater, making you want to re-watch it again. Also, the eye candy in this movie doesn't hurt. Just make sure to bring your girls for a good laugh & to remind them of your love.